Why give blood?
Without blood donors, we could not meet the needs of our growing community.
Learn more.

Give blood today
The complete process takes about 30-40 minutes once you're in our office.
Learn more.

Educational Programs
Our educational program instructs our youth on the donation process.
Learn more.

Western Kentucky Regional Blood Center
The Western Kentucky Regional Blood Center is your non-profit community blood center serving Western Kentucky since 1978. We are the sole supplier of blood and blood products used at six Western Kentucky Hospitals:
Air Ambulances
We serve the following counties: Christian, Daviess, Ohio, Breckinridge, Crittenden, Caldwell, Hopkins, McLean, Trigg, and Hancock.
1-270-684-9296-Owensboro Center and Hopkinsville Center 1-270-885-0728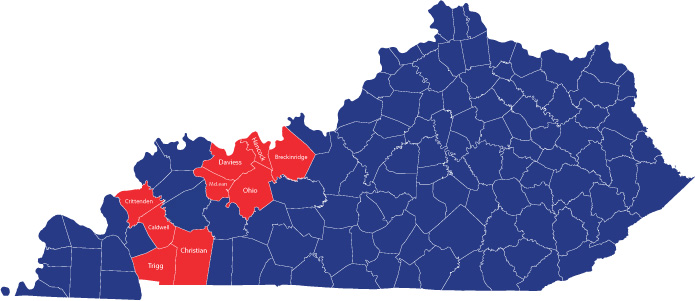 Each year more than 16,000 pints of blood are needed to meet the demands of our local hospitals. The Western Kentucky Regional Blood Center meets that demand by collaborating with area business, schools, churches, and civic organizations who sponsor volunteer blood drives and with the support of the faithful volunteer blood donors who visit our centers. Welcome to WKRBC.
Our services and facilities include:
Educational programs and health fair displays
Speakers for civic organizations and professional groups.
A state-of-the-art laboratory for testing and component preparation
A five-bed bloodmobile
The ability to hold internal blood drives at your facility or organization
Our main center at 3015 Old Hartford Road, Owensboro, KY and a sub-center located at 1902 South Virginia Street, Hopkinsville, KY
For more information, please visit America's Blood Centers.